From Shingles to Sales: 10 Excellent Roofer Marketing Content Ideas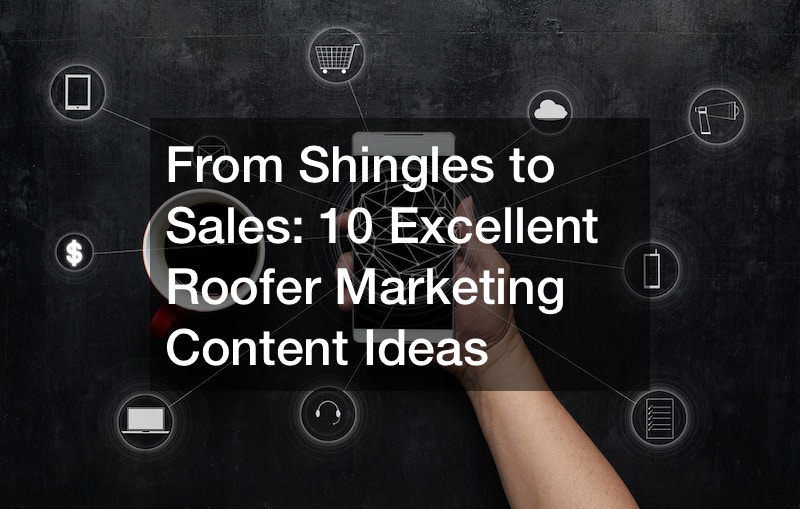 Are you a professional roofer trying to find ways to promote your business? Luckily, you're in a very lucrative career where people need your services. There are so many techniques you can use for viable roofer marketing content. Get the ball rolling on marketing your roofing services with the following tips.
1. Hire a Web Producer
With so much competition out there, it's always a good idea to have a website for your business. Of course, you shouldn't have just any website, but one people will want to navigate and get good information from. According to statistics, viewers will only stay on a website for seven seconds that doesn't load properly. That's why you should hire a professional web producer who understands how to develop a website and optimize it. They understand how to use the right template and optimized coding, while providing guidance on the type of content you should post.
In addition to using a web producer, an entire marketing team can help you with these duties as they specialize in the best search engine optimization practices. They can work with you on developing a content calendar that can keep your website updated so people will keep coming back for more. After all, if someone needs a roof replacement and don't know where to start, the first place they're going to look is the worldwide web. Make it easy for these potential customers to find you by having a professional roofer marketing content online.
2. Create Great Signage
Never underestimate the value of great signage. Let people know about your roof replacement services by investing in custom banners and outdoor signs for your business. According to recent surveys. Over 60% of people have gone into a business based on the sign alone. So, if you have a brick-and-mortar office that people can come into for consultation, let them know that by displaying your name and logo on a prominent sign.
You can further display custom banners in different parts of the city. Have you ever seen sign twirlers at work? It's hard not to notice them doing amazing tricks and spins with signs that help promote a business. Hire them to stand at a street corner near your office space or in different areas of the city ensure the sign they're twirling has your name and ideal contact number.
3. Use Social Media
There are so many social media sites for businesses to take advantage of. As a commercial roofing professional, you can use LinkedIn to connect with other people in your industry as well as relevant organizations to join. These other sites like Facebook, TikTok, and Instagram that can display visuals that showcase your company's expert roofing work. Post videos and photos of your roofers at work so people can see how well you work in a professional setting.
Grow your social media network with marketing professionals who understand how to tap into these different target audiences. So don't worry if you don't have time to navigate different social media websites and consistently make posts. Marketing professionals can easily find the best roofer marketing content ideas to post on your social media profiles for you.
One of the great things about utilizing social media marketing is the low overhead costs. Plus, social media comes with analytics that allows you to track how well certain posts are doing over others. It also allows you to see the demographics of who is clicking on your content and how long they're staying. If certain types of content aren't working, you can phase that out and focus on a type of roofer marketing content that people cater to.
4. Buy Podcast Ads
It's no secret that people are heavily attracted to visual content. However, audio content is just as hot as ever. According to exploding topics, there are over 3 million podcasts in over 100 languages out there as of September 2023. If you think that podcasts aren't useful for roofer marketing content, you couldn't be more wrong. According to the Roofers Guild, the Roofing SEO Podcast, the Roof Strategists Podcast, and Roofing Road Trips are some of the top podcasts in the industry. These aforementioned podcasts and others cover a range of industry topics like business development, sales, marketing, as well as the commercial side of the industry.
As you build your business, you may have a chance to be interviewed by one of these podcasts. You may have enough staff and ideas to create your podcast around your services and related topics. However, being on a podcast as a guest or a creator isn't the only way to utilize their power. Consider investing in podcast ads. With so many people listening to podcasts, using them as your ad space can tap into that audience for as long as you run those ads.
In addition to podcasts, radio ads are just as useful. People still listen to AM/FM radio shows every day, so they provide a great resource for commercial marketing. Since you don't have to invest in a TV studio and production, these radio commercials are often much cheaper and faster to produce.
5. Do Target Emailing
If you have an e-mail address, you understand how e-mail marketing is still very popular. Technology advances have grown since the dawn of e-mail, but it hasn't stopped e-mail from evolving into a very lucrative and vibrant marketing source. According to Hubspot, over 4 billion people use email daily, and its marketing should generate 11 billion in revenue by the end of the year. For example, if you want to advertise flat roof services, you can find a target market that's looking for that and send them direct e-mails.
When clients join your e-mail list, you can give them weekly or monthly e-mail updates. You can make note of their birthdays and send them special deals for that time of year as well as holiday specials. In other words, e-mail is one of the cheapest forms of marketing that can have very lucrative results on the back end.
6. Buy Print Ads
Don't forget about the value that print ads they'll have. You can advertise your local commercial roofing service in Home improvement magazines. These publications are a great way to start as these are often sources that people look to for home or commercial updates and the contractors that can provide the services they need. You can also invest in targeted mailers and postcards that specifically go out to businesses. And don't forget about local newspapers. While the newspaper industry has suffered hits thanks to digital formats, they're still in print and are still a resource to place ads related to your field. You can also invest in advertising in local directories such as business directories or the Yellow Pages.
7. Put Up a Billboard
It's hard to miss a prominent billboard when you're driving on the highway. As roofing contractors aim for better roofer marketing content, they should focus on what they can place on a prominent billboard. When you invest in a billboard, you have a long-term targeted advertisement that is also way more cost-effective than running a TV ad. Billboards are highly visible since people can constantly see them in high-traffic areas like busy streets, public transportation hubs, and other locations outside. Thousands of people will see your billboard every day, whether they're walking past it, driving past in a car, or viewing it while waiting for their train.
You can use your billboard to further drive traffic to your company website and social media pages. You can include your phone number for people to directly call you about your roofing services. In other words, it's an effective way to connect your marketing strategies across different platforms.
8. Do Canvassing
Put some of your team to work with canvassing. Use canvassing to help put the word out in local neighborhoods. If you want to advertise your roof installation services, create flyers and leave them on door handles and car windshields. Post them onto boards in local coffee shops or business lobbies and anywhere else you can stick them.
In some cases, canvassing may allow you to directly engage with customers. For example, if you knock on a door and a homeowner or business owner answers, you'll be able to directly answer any questions they have about your roofing business. At that time, you could also take their direct contact information if they're comfortable enough to give it. From there, and add them to your contact list.
Another good thing about canvassing is it involves targeted marketing. While you can always leave flyers and business cards anywhere you like, you can also pick a specific neighborhood where you're more likely to get roofing business. That way, you can better focus your resources and time to generate leads for more business.
Canvassing allows you to put a face to your business. When you meet people in person, you can introduce yourself and distribute any promotional materials ranging from business cards, hats, T-shirts, and anything on your person. In other words, you could leave a lasting impression that can make people want to learn more about your services and the personality behind them.
9. Start Blogging
Many businesses benefit from blogging, and so can yours. According to Finances Online, as many as 80% of companies in America use blogs as part of their standard marketing strategy. Blogs provide a creative way to go beyond the standard information you have on your website. For example, a professional website will list your services, fees, contact information, and customer testimonials. With blogging, you can further show more of your professional expertise by talking about relevant topics relating to roofing.
For example, some roofer marketing content can discuss how residents can benefit from using solar panels on their roofs. You can have an article that compares and contrasts the pros and cons of using different roofing materials, like metal versus asphalt. Discuss some of the benefits of TPO roofing, which include heat, reflectivity, as well as strength, and durability, and why so many commercial businesses love it. A good company blog can help extend your reach to potential clients as well as help your search engine optimization presence online. But don't just stick to the blog on your website. You can even create blog posts that are specifically meant for 3rd party websites.
10. Use Google Maps
When businesses think of Google and marketing, they often focus on how well their website can rank in Google searches. You can also use Google as a marketing tool within itself, especially when it comes to Google Maps. Include relevant information about your residential roofing company that'll be included on your Google My Business profile. Get the ball rolling by updating your Google My Business profile by making sure all of your information is up to date.
Do you have good visuals to showcase your company? Add as much of the visual roofer marketing content as you can to your Google Business profile. Showcase your roofing materials, products, services, and photos of workers in action.
Don't forget to respond to customer reviews. Google Reviews is one of the main sites that customers use to leave reviews about companies. Even if you have negative feedback, it shows professionalism if you respond to customers and show that you're listening to their critiques and that you value their feedback. Monitor your Google Analytics on this page to find out how your customers are finding your business information and how they're interacting with your business.
As you can see, there are many ways to showcase roofer marketing content to promote your business. Whether you use social media, billboards, direct mailings, or emails, you have several ways to broadcast your roofing services and expertise to local and nationwide customers. Of course, you don't have to do everything on your own, as you can always hire a local marketing team to assist you. By utilizing a combination of the above steps, you can promote your business in no time.