Affordable Home Repairs to Consider Before Fall Starts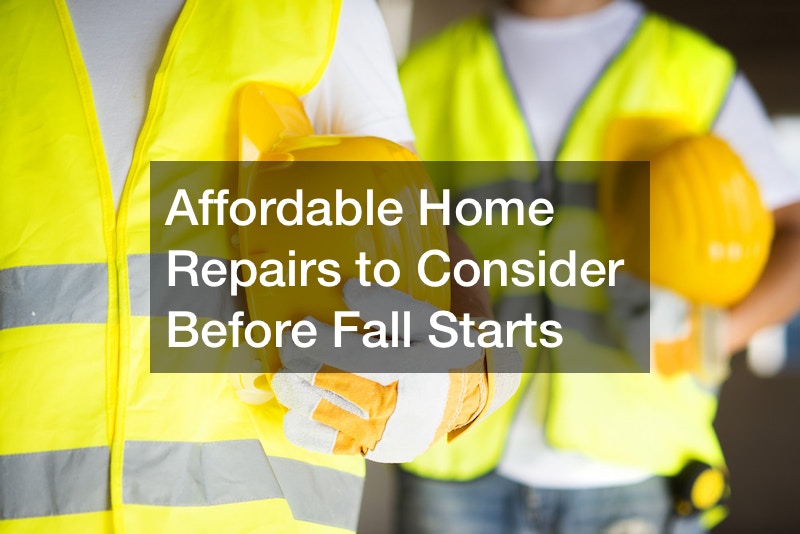 Home repairs have become a necessity rather than a luxury over the years. One of the most critical factors when undertaking them is ensuring the end result is a space of optimal comfort. With colder weather approaching, it's a good time to consider upgrades that will keep you and your family comfortable throughout the fall months. Here are some affordable home repairs that are worth every penny.

1. HVAC
One of the affordable home repairs to prioritize is preventative maintenance on your HVAC system, especially the air conditioning unit. Before wholly swapping over to heating mode, have a trusted HVAC technician perform a tune-up to optimize performance and nip any small issues. Air conditioning repairs typically involve replacing air filters, cleaning the condenser coils, oiling moving parts, checking refrigerant levels, and ensuring proper airflow.
A well-maintained, professionally serviced AC runs more efficiently, keeping electricity bills in check. The goal is to prevent untimely breakdowns that leave you unexpectedly without AC on those occasional hot fall days. While a full HVAC inspection and tune-up may sound intimidating, affordable options are available. Look for special fall home maintenance packages from reputable HVAC companies that provide discounts on pre-season tune-ups.
The investment of a nominal fee now can prevent exorbitant repair bills later. If your budget is extra tight, simply replacing the air filter yourself and clearing any debris from the outdoor AC unit can go a long way. However, for optimal protection, having a trained technician give your AC some extra TLC provides valuable peace of mind heading into the cooler months. Overall, keeping your system in tip-top shape ensures it will be ready to keep you comfortable when temperatures rise again next Summer. Making AC repairs an annual routine fosters a healthy home during all seasons.
2. Drainage
You must prepare your drainage system for the changes of fall. The last thing you want is to deal with clogged drains when temperatures drop. Inspecting and maintaining your drainage systems and roofs now can prevent more costly damage later.
Use a drain snake or compressed air to clear obstructions and allow water to flow correctly. It's crucial to monitor drains after cleaning and call a professional if clogs persist. Delaying drainage repairs can lead to leaks and water damage as rain accumulates.

3. General Plumbing
Before fall's chill breezes and blows open the door, give a technician free rein to inspect your home's pipes and fixtures and ponder some general plumbing repairs. Though obtaining multiple estimates from local plumbing companies makes good economic sense when large projects loom, smaller, proactive measures require merely a visit to the hardware.
Replacing worn washers in dripping faucets, for example, costs little more than an hour plus a package of washers, yet prevents gallons of wasted water and frustration. Similarly, inspecting exposed water lines for corrosion and wrapping any dubious sections with inexpensive foam pipe insulation pays dividends in preventing ruptures.
Checking outside hose bibs and interior shut-off valves helps them to properly operate. Though no one relishes extra home maintenance, a few strategic yet economical repairs create peace of mind and help avoid catastrophic plumbing failures. When you include plumbing services in your list of affordable home repairs, you'll smile through winter, knowing your plumbing will withstand the season's worst.
4. Water Wells
As a homeowner, you should consider affordable healthy pump repairs and maintenance. Decreasing water pressure often indicates an issue with the well pump, and in such a case, contacting a local well pump services company to inspect the system is recommended. The technician can check the flow rate and diagnose problems without breaking the budget. They typically test for drawdown – how much the water level in the well drops during use – to determine if the well produces adequate water volume or if the pump intake is too low.
Insufficient productivity would require drilling the well deeper, which can be costly. However, replacing the pump is less than half that price. If the pump is old or worn out, installing a new one can restore water pressure.
Submersible models conveniently drop into the borehole for easy installation. Then, the pump pushes water up the piping and into the home. However, the flow rate also depends on pipe diameter, so a larger pipe may be necessary to increase capacity. A variable speed pump that can match varying demands could also help optimize efficiency, as it runs slower during periods of low usage, saving electricity.
With preventative maintenance, well pumps are less likely to fail unexpectedly. Annual inspections can detect issues before a breakdown occurs. But even if the pump does stop working, an affordable replacement is preferable to major well drilling. Proper maintenance keeps water flowing smoothly into the home at a good pressure.

5. Roofing
When fall arrives and daylight hours decrease, a chill permeates homes. In such times, compromised roofing impedes the enjoyment of the final warm months. Homeowners on a budget face difficult decisions: hire commercial roofing services now or tolerate leaks and drafts throughout the winter? Although companies tout exceptional roofing capabilities, high costs often limit engagement.
However, affordable home repairs exist for resourceful homeowners willing to attempt minor repairs. Proper equipment like a sturdy ladder and basic tools can help you fix leaks and gaps as temporary measures until major roofing needs arise. If the source of a leak is unclear, using a garden hose often reveals the location.
Complex repairs are best left to seasoned roofing companies. Addressing these nagging roofing problems now allows for comfortable fall and winter enjoyment. Then, when full roof replacement becomes necessary, with prudent savings, the best commercial roofing services can be engaged.
6. Kitchen Remodels
While major kitchen remodels can fully transform the heart of a home, large-scale overhauls often require budgets exceeding many homeowners' means. However, numerous smaller and more affordable home repairs can substantially improve your kitchen's aesthetics and utility.
For example, giving drab cabinets a fresh coat of paint will light up the space without breaking the bank. Painting the cabinets yourself rather than hiring kitchen remodeling contractors can also help you save considerably on labor costs. Updating old cabinet hardware to match modern metal finishes adds a fresh look. Installing new backsplash tile behind the stove – such as subway or penny tile – adds vintage character, while replacing outdated sinks and faucets provides a more contemporary appearance.
Open shelving lights up a room and offers display space to showcase dishware. Pendant lights over a kitchen island provide extra illumination for an eat-in area, and swapping out a small light fixture for a dramatic chandelier makes a statement. Updating countertops with budget-friendly options like butcher block, quartz, or laminate can give the space a new feel. Removing excess appliances and cookware opens up valuable counter space.
7. Declutter
With fall on the horizon, decluttering projects should take priority in your list of affordable home repairs. To initiate the process, start by addressing accumulated clutter. Donate unused furnishings to charity and purge overflow from cupboards, reclaiming space for more purposeful usages.
Organize closets, basements, and attics. Once you've cleared all the clutter and find you're left with items you can't hand down, maybe because they aren't working, enlist the help of companies offering garbage removal services. This way, all you need to do is gather everything in one place, and they'll come pick it up.
Revitalizing your home with decluttering before fall won't strain your budget. Rather, choose garbage removal companies that provide valuable services as you ready your dwelling for the cooler months ahead. No better time exists than the present to begin optimizing your home so you can fully relax and enjoy fall's advent.
8. Septic Service
Often overlooked until malfunctioning, septic systems require periodic maintenance to prevent costly failures. Professional septic services, though costly, provide reassurance and avoid pricier emergency repairs. Septic tanks should be pumped every three to five years as part of affordable home repairs to prevent excessive solids accumulation. Clogged outlet filters and cracked inlet/outlet piping also necessitate servicing.
Licensed technicians thoroughly inspect tanks, distribution boxes, pumps, and drainage fields, identifying issues before they become problematic. As part of standard septic system service, technicians will pump the tank if needed, replacing damaged filters, gaskets, and components. A comprehensive service also includes assessing sludge levels and verifying unobstructed drainage fields.
Experienced professionals will help you determine overall system health, estimate remaining lifespan, and recommend solutions for optimal performance. As a homeowner, you should address septic concerns before winter rather than risk disruptive failures or expensive replacements from compromised leach fields. Though routine inspections and pumping cost money, preventative maintenance is far more economical than emergency repairs.
9. Lawn and Garden Maintenance
Budget-consciousness should be prioritized for exterior repairs and upgrades to maximize usefulness and curb appeal without overspending. With this in mind, consider adding lawn and garden maintenance to your list of affordable home repairs.
Fall maintenance typically includes removing fallen leaves and debris, pruning back perennials, planting spring bulbs, and winterizing outdoor features. Investing in quality tools like rakes, tarps, pruners, hoses, and wheelbarrows provides lasting value for DIYers. Renting or borrowing equipment for larger temporary needs can also minimize costs. Don't overlook personal protective equipment like gloves and goggles when performing messy or hazardous tasks
Hiring reliable local landscaping services at reasonable rates is a wise option for those lacking the time or ability for intensive yard work. With proper planning, effort, and careful spending, you can transform and prepare your property for fall and beyond without straining your finances. Tidying up the yard and garden during still-favorable conditions also allows for enjoying the space before snowfall.
10. Siding and Paint Touch-ups
As you prepare for fall, don't forget the siding or exterior paint job. This should typically include inspecting and repairing any warped, cracked, or missing siding to help seal gaps and improve insulation. Replacing just a few boards is relatively inexpensive.
While checking the siding, also look at the condition of the exterior paint. Faded and peeling paint exposes the wood underneath to the elements, leading to decay over time. Lightly sanding peeling spots and applying new primer and exterior paint can provide a budget-friendly facelift.
It's also wise to examine trim, shutters, or other painted exterior features that may need fresh paint before winter. Properly preparing the surfaces and repainting before cold weather sets in can restore curb appeal. Be sure to protect nearby plants from paint drips during the process.
An outdated entry door is another area that can be affordably spruced up with a coat of lively-colored paint and a new doorknob or knocker. Adding fresh weather stripping around the edges provides an extra seal against drafts and helps keep warm air inside. With some budget-friendly paint touch-ups and repairs applied now, you can relax and admire your home's improved aesthetic from the warm indoors when windy weather moves in.
11. Insulation and Weatherization
When outdoor temperatures drop, it is an optimal time to evaluate insulation and weatherization projects for your home. Properly insulating walls, attics, and basements can substantially reduce heat loss and energy bills during the colder months. Installing fiberglass batts, blown-in cellulose, or spray foam in areas lacking insulation is a smart, affordable upgrade. Replacing old, drafty windows with new energy-efficient models is another excellent option, albeit at a higher cost. For a budget-friendly quick fix, apply plastic film window kits to create an additional insulating barrier over existing panes.
Don't forget to caulk areas prone to air leakage, like windows, doors, electrical outlets, and attic hatches. Applying weatherstripping materials and door sweeps to exterior doors and adding adjustable thresholds helps prevent heat loss and drafts. Also, proper insulation and weatherization measures now will pay dividends in comfort and energy savings when frigid temperatures arrive. With some strategic planning and targeted upgrades, you can cost-effectively maximize your home's energy efficiency this fall. Investing in insulation and weatherization is money wisely spent.
Completing such affordable home repairs now can mitigate more costly issues in the future. Sealing windows and doors with caulk, for instance, obstructs drafts and assists in thermal retention. Replacing dilapidated weatherstripping achieves the same objective for a marginal cost. Inspecting and rectifying loose roof shingles following summer storms is also prudent to preclude leaks or total roof failure when snow loads increase.
With basic DIY proficiency and prudent planning, making one's abode suitable for frigid months need not impose a financial burden. A few inexpensive repairs executed in preparation for winter's adversity will yield dividends, efficiency, and peace of mind. As the autumnal equinox approaches, homeowners should consider implementing these affordable home repairs before the onset of fall.