How to Protect Your Home Against Flooding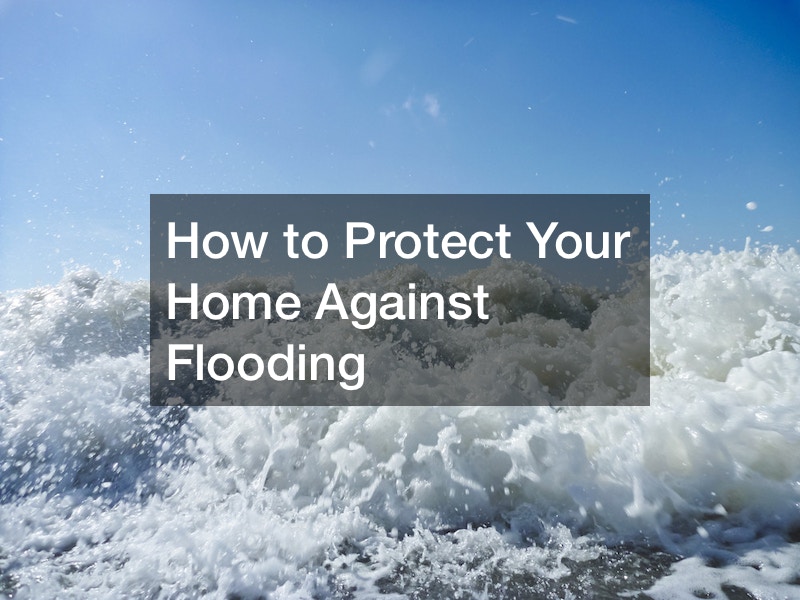 Flooding can cause major damage to any structure, including your home. Repairing flood damage can cost fortunes, and sometimes, there isn't much to salvage, depending on the severity of the water damage. Flood damage prevention tips are some of the key points focused on in today's article. Carry on reading this post, and we hope it can help you in some way or another.
Why Does Flooding Occur?
Flooding can occur for many reasons, including dam walls rupturing, excessive rain in the same region in a short time, and storm surges, to name a few. Flooding also happens because the area receiving the water can no longer contain the excess water. Thus, the water has nowhere else to go, resulting in an overflow and continuous rise of water levels.
Sometimes residential areas may have bad drainage, or the drainage infrastructure isn't large enough to store and drain the rainwater. Again, this multitude of rainwater proceeds to rise until the area floods. Flood damage prevention is crucial for your home, especially if the location is prone to flooding.
Flood Preparation 101
Check the area for historic flooding incidents – Before settling into an area, do some research and check if the location is prone to or has had flooding of late. If the location is prone to flooding, then you can expect that if you choose to live there. Some places are unmistakably beautiful and have a lot to offer, and for some folks, that's enough to decide to stay at a higher risk for flooding.
Plan for emergencies– If you live in a flood-prone region during certain seasons, you should always be prepared for emergencies. Pack nonperishable foods like canned goods and long-shelf-life foods aside. Torches, batteries, candles, and water are also a must to set aside for the rainy weather. Also, pack a first aid preparation kit.
Have a toolkit kit on the ready – the tools in the toolkit should include basics like another flashlight, a multitool, a whistle to signal you need help in that location, a flare gun, some emergency numbers, mini food rations, and bottled water.
Electronics must be shut down – As part of flood damage prevention, you must also try keeping track of the latest news about the flood in the area. At the same time, turning off the electricity supply and other electronic items would be safer. Hence, avoid using any electronics during the flood unless it has been cleared to do so.
Store documents safely– Any important documentation items should be stored in waterproof storage. Important items include your personal documentation, ID, visas, passports, bank cards, and cash money.
Teach your kids to memorize your phone number – It might be a huge ask for younger children, but it's important that you try and teach your children to memorize your telephone number so that they can also dial you if an emergency occurs and you aren't with them.
Avoid having contact with water – Flood waters are usually contaminated and should be avoided at all costs. Don't get into contact or try at most not to do so. The water shouldn't be used for cooking, brushing teeth, or bathing.
Tie anything lose down – it's important to tie down loose furniture and items outside your home and if you can manage, tie down the inside too. Tying the items down prevents it from drifting away as the water rises. In turn, it lowers the loss of these items.
Protect Your Furniture in the Home
The furniture is one of the assets in your home that takes on lots of damage in the event of a flood. On many occasions, the damage to furniture can be so bad that it completely ruins the item. Getting a protective covering for your furniture can help reduce the water damage. You may for example, cover the mattress with a layer of waterproof mattress protector sheet so if flood water permeates your home, the beds will be protected to some degree.
As part of the flood damage prevention in your home, you might also find protective covers for sofas and chairs to safeguard those as well. Concerning wood, you want to ensure that you seal the surface areas of wood furniture and pieces with a protective oil-like base coating. In this way, it gives it a water-resistant layer.
Schedule Regular Plumbing Inspections
Plumbing is one of the crucial areas to investigate and ensure that all is intact. Get the plumbing company to check the pipes, clear the gutters, and check for any blockages. Drains and pipes are made to keep water from stalling and seeping into the property. However, when there are blockages and debris in the pipes and drains it can lead to water being blocked and thus floods.
During the years, it is also important to regularly maintain the plumbing. Your local plumbing services can assist here as well and to some extent, you can do some of the maintenance by yourself. Perhaps you want to do upgrades to the plumbing and sewage or drains of your property, in addition to what there already are, then the experts can help you do so too.
Renovate the Basement
Flood damage prevention is crucial on many levels, including securing the basement. But if you have already experienced flooding, you may be looking to renovate your basement after the damage has been done. Basement renovation services can assist you with repairs after the event once all the water is dried up and ready.
Before beginning the basement renovation, you need to ensure it is properly dried up. To help with drying, companies use industrial fans, blowers, and dehumidifiers to dry the moisture even further. All steps are taken to reduce the chances of mold festering.
Basement renovation services also include repairing or replacing the sump pump responsible for water removal. If the sump pump is faulty, you have to replace it because it might be the reason for the flood. Make sure that the foundation doesn't have any cracks, and if there are any cracks, have them repaired
Protect Basement
The basement may already be presenting signs of water leakage, and in addition, it can be causing issues with moss and moisture buildup. Sealing your basement is important. Sump pumps work with electricity, but adding a battery power pack can ensure that the pump will still function even when the electricity is out.
To further protect the basement, check that the drainage on the outside of the property is working as it should and not stalling water from draining. Dry basement solutions include dehumidifiers and industrial fans. You should also allow it to be ventilated adequately and you can try using a wet vacuum cleaner to suck up additional water that may have soaked into the carpets or flooring.
Window Treatments
There are good options for window treatment to help safeguard your home against flooding. Sometimes flooding can occur because of exterior factors like weather conditions like storms. Hurricane window companies specialize in the supply and installation of storm shutters to give your home an additional layer of protection against a storm's strong winds.
The local window treatment companies can help you install some beautiful yet moist-efficient window treatments. Vinyl or faux wood blinds look beautiful and the good news is that they are also robust against moisture. Having vinyl window blinds installed is a good option if the location is prone to high rainfall and high moisture.
Schedule Regular Roof Inspections
Roof inspections, just like plumbing inspections, are highly important to help double down on flood damage prevention. The roof is one of the first places where water can seep in as a result of rainfall. You will notice water marks or stains on the ceiling inside your home, and this is one of the surefire signs that water is getting in via the roof.
Be certain to seal the roof completely and you can do this with a roofing repair company. Roof repairs can also help get roof shingles replaced and patch up any discrepancies to help secure your roof for the flood weather. In all of that, a roofing contractor may also help you to replace a roof that is past the point of no return, and the new roof will be even more resilient to flooding. New roofs are in perfect condition and can help ease your mind, knowing that shingles, sealing, and all other aspects are met.
Protective Barrier
Some people opt to build a protective barrier or wall around their home, even glass wall material, as an option to ensure that flood waters don't get inside. This isn't always possible, but if it is, you can have a protective wall barrier constructed and installed to secure your home against flooding water from the outside (due to other aspects and not your plumbing). Think of it as a shield protecting your home.
Have a Company to Call
Be certain that you have all the necessary emergency numbers on hand so you can reach out as soon as possible. Try storing all emergency kits and safety additions in an elevated position where they will be more protected.
Call the Disaster Distress Helpline at 1-800-985-5990. If you need to connect to an ASL agent, dial the ASL Now option or dial the number mentioned above. Disasters are not only limited to floods, but they also include and are not limited to hurricanes, wildfires, earthquakes, mass violence, community unrest, tropical storms, and tornadoes.
You may also contact the local authorities and the water damage repair services to assist you with the flood situation at your home and in the location in which you live. Sometimes, the flood is only limited to your property due to mechanical issues or inadequate water drainage. Assessing the level of the problem will also help you get the right help for the level of emergency.
What To Do During a Flood
Keep an active listening ear for any updates about the flood. In case there is flash flooding, you should move to higher ground. Some people may seek shelter in their attic. Ensure that important items are also secure with you on a higher level.
If you have to evacuate, take the emergency kits and important documentation with you. Before leaving, if there's time, you can bring all outdoor furniture into the house for safekeeping. Don't forget to ensure the electricity is turned off before leaving your home.
What You Should Do After a Flood
Flood damage prevention after the fact is also critical, and knowing what to do in the aftermath will help reduce the stress related and set you and the rest of the residents in your home on a knowledgeable path so that you won't feel as helpless. If you've managed to evacuate in time, stay away until the flood waters have subsided. Keeping track of the flood information will also help you determine when it is safe to turn on the electricity.
Wait for the water level to drop – Before entering your home, if you have to evacuate, be certain to wait for those flood water levels to drop. Flood water, as we've already mentioned, is contaminated and can cause various health concerns. If the water is at floor level, at least you can walk and work in the home without too much easy access to unwanted contaminations.
Wear protective clothing – It is crucial to wear protective clothes if you're dealing with the aftermath of a flood in your home. You will need rain boots, gloves, a hard hat (in case of potential falling bits), goggles, overalls or long trousers, and a long-sleeved shirt.
Avoid eating or drinking any contaminated consumables – If food or drink has come into contact with the water, you should throw it out. Any flood water should be regarded as contaminated, and thus, all foods in contact must be avoided.
Be sure to have your home and your family ready by executing flood damage prevention protocols ahead of time. Having everything in place and being ready will help you get through the incident. Remember to try and document as much as you can as proof for the insurance.