Consult This Truck Checklist Before Driving Across the Country!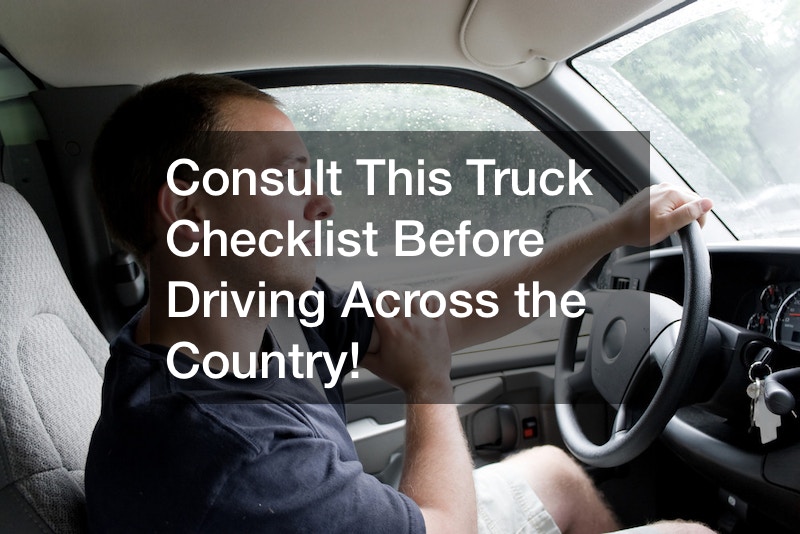 Are you getting ready for an exciting drive across the country? Whether you're driving across the country for work, to help a loved one move, or for a vacation, having your vehicle inspected before heading out of town is essential in ensuring that it's safe and ready to handle a significant drive. Many people find servicing their vehicle to be stressful and daunting. It doesn't have to be! Not with our truck checklist before driving cross-country!
Are you getting ready to head out on an exciting cross-country adventure? Great, but before you start packing your favorite snacks, choosing your favorite outfits, and creating what's going to be the ultimate road-trip playlist, have you completed your truck checklist before driving a long distance? It's okay if you didn't because we have you covered with our ultimate service guide!
Below is our service and maintenance guide to preparing your vehicle for driving across-country, which includes buying new tires to replace worn-out tires, a routine truck oil change, and brake repair services. If you hit the road often and already do heavy trucking, you're probably in good shape, and what's included below is just a refresher to ensure your truck is in good shape.
Truck Checklist Before Driving: Essential Maintenance
Driving cross-country can be harsh for many trucks. That's why having the services mentioned below performed before your trip will help keep your vehicle in top shape. No matter if you're driving alone or with another person, no one wants to experience any issues, especially when you're in unfamiliar areas.
Ranging from a quick oil change to battery inspection, topping off fluid to tire inspections, let's further explore, we're exploring the top service tasks to complete before taking on a cross-country road tripd1 There are essential tasks to complete before driving cross-country, starting with a truck oil change.
Oil Change and Filter Replacement: Most oil changes are recommended between every 7,500 and 10,000 miles. During this service, the oil and oil filter will get changed. Because you're driving thousands of miles, you may want to consider getting an oil change done before you leave. You can speak with your trusted mechanic if you should have it done before or after your road trip. If you've driven more than 7,500 miles, ask your service technician if another oil change is needed.
Inspect and Top Off Fluid Levels: Speaking of fluids, you want to have your fluids inspected to ensure they're not low. This includes washer fluid, transmission fluid, coolant, brake fluid, and power steering fluid. Your brake fluid will get replaced when your brakes get checked, which is below our recommended truck checklist before driving cross-country. Not having this service done could result in expensive issues down the road, which isn't something you want to deal with, especially while you're out on the road.
Battery Inspection: Battery inspections can be done at a lot of places, and having it done won't break your budget. This is one service you don't want to skip out on! The last thing you want to happen is your battery dying while you're in the middle of your trip. Your battery terminal gets cleaned before it's checked for its strength and any possible corrosion.
Tire Inspection: If you have worn-out tires, have them inspected to see if new tires are needed. During the inspection, they'll check the inflation and tread depth, as well as check for any damage. If there is anything wrong with the tires, they may consider replacing them. Since you'll be doing a lot of driving, you may want to have them replaced for a safe and smooth drive. Especially if you're unsure how old the tires are. Don't forget — have the tech inspect the spare tire.
Brake Service: As you're crossing off tasks on your truck checklist before driving cross-country, be sure to have brake service near the top. Scheduling brake repair services allows you to make sure that they're in top shape. During this service, they'll flush out the old brake fluid and replace it with new fluid. The rotors also get resurfaced, brake pads replaced, cleaned, and adjusted, then they'll lubricate other braking mechanisms as needed. You're driving cross-country, and having working brakes is vital.
Transmission Service: Your transmission keeps your vehicle running smoothly, which is why you want to have a truck transmission service done. Our service tech will make sure it's in top shape, and your truck is safe for taking on a cross-country drive.
Inspect Belts and Hoses: Have a mechanic inspect your truck's belts and hoses to make sure everything is functioning properly. This includes your power steering and cooling systems. If they are frayed or cracked, they'll need to get replaced. Then, inspect the hoses for cracks, lumps, or leaks. A small hose can do a significant amount of damage.
Inspect Your Lights & Lamps: You can check your lights before visiting a service center. Make sure everything works: your headlights, blinkers, brake lights, fog lights, and turn signals. If a light is out, your mechanic can quickly replace it.
Inspect the Timing Belt: One of the most overlooked services is the timing belt. You should know what it is and how it works because it helps recognize any significant issues. Since this is a time-consuming task, you don't want to procrastinate on it. If the timing belt fails, your engine won't work.
Check the Air Conditioning: If you're heading out on your trip during the summer months, make sure your air conditioning works. While some enjoy having the windows down, the air conditioning helps when it's too hot or humid.
The final essential truck repair to be done is on truck hydraulic services. This is when factory-trained service technicians ensure that all of your truck's systems are working well and there's nothing that requires immediate attention. Cross-country driving is no easy feat for your vehicle, and we want to make sure your truck can handle it safely.
Be sure to reach out to your local mechanic to see if there are any other services that need to be completed before you head out of town.
Truck Checklist Before Driving: Additional Services
We've discussed our essential service recommendations, so now we want to recommend some important, but non-urgent service tasks. Yes, what's listed below isn't vital, but they could help make the trip better.
Audio System Inspection: Again, we know it's not vital, but having the truck audio system checked will help make your trip more enjoyable. Many drivers can barely go 10 minutes without putting on their current jam or listening to their favorite radio station. Having music, radio stations, or podcasts helps make your time on the road go by a little faster.
Replacing Worn-Out Parts: If you notice any parts that are worn out, have them replaced. You can check for affordable used auto parts or visit your nearest auto parts store for affordable parts. You should inspect and fix the following:
Interior lights
Blinkers
Windshield wipers
Gas cap
Dealerships regularly offer discounts and specials on genuine OEM parts, so you should check there before visiting an auto parts store or buying used parts online.
Have a Backup Plan: It's always best to prepare for the worst. Even though you're doing what you can to ensure your truck makes it across the country safely, anything can happen on the roads. To help relieve a little stress when something happens, have a trusted semi truck towing company that can help tow your vehicle if needed.
Truck Checklist Before Driving: What Should I Bring?
With your truck ready to go and a semi truck towing company contact info ready just in case anything does happen while out on the road, there are some essential items you should pack for your trip.
Garbage Bags: Bring several garbage bags. Having these will help your truck clean at all times.
Tire Iron and Jack: Even though the tires were inspected, you can still experience a flat tire. Having a jack and tire iron will help if this happens.
Bring Small Towels: We all know how dirty the windshield can get during road trips, so having towels on hand to clean that or messy spills helps make the trip go better.
Spare Keys: Order a spare key in your purse or wallet just in case you accidentally lock your keys in your car.
Cables: Make sure you have all of your power cables and chargers! This includes your car charger, USB cables, camera chargers, and any chargers for your drone or Go Pro.
Owner's Manual: While most people have this in their car, having your vehicle's owner's manual can come in handy if you're ever in a service-related bind.
Lastly, you'll always want to have a safety kit in your vehicle if you do a lot of long-distance driving. Stay safe out on the roads! If you're wondering what to pack in a safety kit, we have you covered with our recommendations below:
First-aid kit
Non-perishable Foods
Bottled water
Extra cell phone charger
Extra medication
Flashlight and backup batteries
Thick towing rope
Pliers
Bungee cords.
If you're driving cross-country during cold weather, be sure to also include the following:
Warm clothes
Blankets
Ice scraper
Bag of sand – this is for better traction when driving in snow
Snow shovel
The winter items above will help keep everyone warm and help get your stuck vehicle out of the snow. While the extra clothes and blankets help keep you warm, that's okay.
Truck Checklist Before Driving: Handy Tips
While we've provided different things to add to your checklist, there are some additional things that will help make your drive across the country go more smoothly. Check out the tips below:
Never let your truck go below half a tank. You may not know when you'll find another gas station, and the last thing you want to happen is to run out of gas.
Are you bringing a regular camera? Bring extra memory cars! You'll be surprised by how many photos you will take during a road trip.
You may lose service multiple times during your drive, so make sure you have your favorite music on your phone as a backup plan in case this happens.
If someone is coming with you on the trip in the car, make sure they don't put luggage on top of their vehicle. While there are luggage racks for this reason, it can create air friction that could slow your vehicle down. You could end up spending more money on gas in the long run. If the rack is needed, cover it with a sturdy sheet and tie everything down tightly.
Make sure your truck is clean – inside and out! Starting the trip with a clean vehicle helps it stay that way during long road trips.
Get Additional Service Tips Today!
Have you completed your truck checklist before driving cross-country? If you want to know more about preparing your vehicle for a cross-country road trip, reach out to a service technician today! They know your vehicle inside and out and will work to make sure that it's safe on the roads. Not only will they inspect your vehicle to ensure it's ready to take on a country-country drive, but they will also provide tips to keep it performing so that it's safe for the road ahead.
We hope our tips help your trip! Thanks for making us your trusted resource guide for all of your truck's servicing needs. If you notice any major issues or one of your lights is displayed on the dashboard, please schedule an appointment at the dealership's service center where you purchased your truck.