Must-Have Services When Moving Into A New Home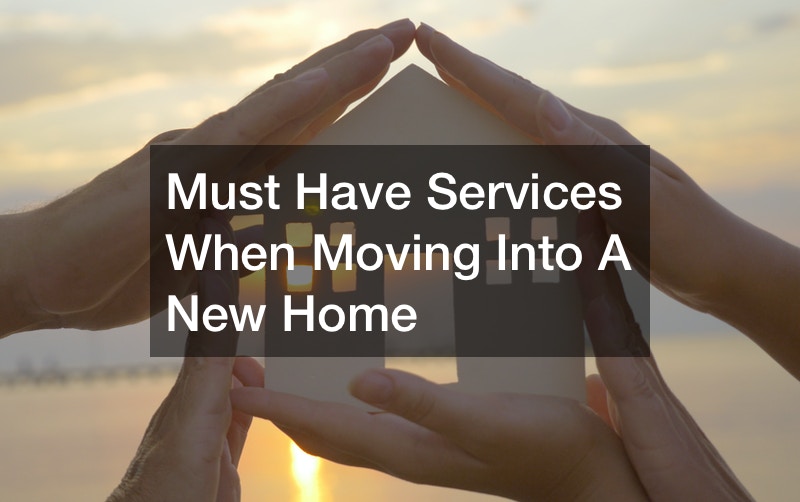 Three major reasons suffice when moving to new houses: a growing family, a new job, and pursuit of a better living situation. Regardless of why you want to move, you want the process to be seamless and less time-consuming. A smooth process requires observing and investing in various services, equipment, and materials. The following insights will guide you in the process.

Top Services You Need When Moving

Different services will help facilitate a smoother transition. The following are the most critical during this process.

Remodeling Services

Unless it is brand new, you'll need to fix various issues every time you buy or lease a new house. Hiring a remodeling contractor will be the first step towards addressing all the issues at hand. Experts recommend starting the hiring process and the renovation before you move in. This approach will help minimize disruptions when your family starts to settle in the new home.

You'll need to carry out a comprehensive home inspection to establish the various issues you need to address. This home inspection will cover various elements, including the HVAC, electrical, plumbing, and structural components. The remodeling expert will evaluate the building, determining which aspect to prioritize.

However, generally, focus on renovating the bathroom, curb, living room, garage, and basement. Remodeling these spaces will also come in handy, allowing you to customize the room per your preferences and family needs. Remember, the contractor you choose determines the quality of output. As such, prioritize experienced, skilled, licensed professionals, preferably local ones.

Landscaping Services

Various landscaping services will benefit you when moving to a new home. These services suffice if you are moving to a house with a lawn. A professional will ensure that you get multiple landscaping services, including clean-up, pruning, hedging, and lawn protection. You could also rely on these experts to irrigate the lawn, ensuring that it looks healthier.

While you might want to consider DIY, hiring a professional initially would be a better move. This professional will pay attention to various issues, helping you address them on time. Their experience and skills will help identify lawn issues, and take remedial measures on time. In addition, they help set a particular standard that you can follow in the long run.

Lawn mowing is an integral part of landscaping services. This task could take a toll on you, mainly if the lawn is sizeable. A professional will identify the best approach to mow and maintain your property within a short time, saving you time and effort. They could also offer additional services, including mulching and leaf removal. All you need is to pick the right professional.

Electrical Services

Various electrical systems in your new house need to be kept in check. This system entails different elements, including appliances, lights, service panels, and incoming power lines. It determines the level of safety in the house, thanks to its susceptibility to fire. For this reason, let a professional handle the process.

An electrician evaluates your electrical system, identifying potential threats and system failures. This move will help protect you against electrical-related accidents. You could attribute this to their ability to install and maintain excellent electrical and power systems in the home. They also ensure that the wiring and appliances in the house are in check, controlling electricity flow.

You can rely on the electrician to install different appliances, including fans. Ceiling fans are essential additions to any home, enhancing air quality and comfort in the long run. Their enhanced expertise allows them to install and maintain indoor and outdoor lighting. They could also help fix lighting options that match your preferred interior design.

Your safety in the bathroom depends on the wiring system. An electrician will help install the right bathroom fixtures, including wiring them accordingly. These experts will also ensure that the water heaters are functional, avoiding any significant danger in the long run.

HVAC Services

Everyone looks forward to living in a significantly comfortable house. Such a house must have enough air circulation and impressive indoor air quality. The temperature levels must also be in check. Investing in HVAC systems is a sure way to achieve all these elements. Yet, when moving to a new house, you cannot determine whether they function correctly. A professional does.

Ensure that you get a certified and skilled professional to handle the heating and ventilation unit. This technician has the expertise required to inspect and identify issues within the air conditioner, addressing any potential threat. You can also rely on them to manage, maintain, and replace this unit.

HVAC replacement is the last resort. It is worth considering only after different repair approaches have failed. In this case, you'll need to compare various aspects before settling for one. For instance, you must be sure of the AC replacement price, avoiding financial constraints in the long run. It will also be wise to select a unit from a reputable brand that is easy to maintain and afford.

Roofing Services

The roof of your new house helps determine the property's curb appeal. It also provides safety and shelter for you and your family. When you visit a new home, your first task is to ensure that the roof is in excellent condition. Its health will influence your comfort, health, and convenience in the long run.

A reputable roofing services provider will come in handy in such instances. This expert will help inspect the roof to confirm its health. Roof inspection focuses on multiple elements: unusual wear and tear, organic growth issues, shingle issues, poor installation, and debris-caused damage. It will also help confirm whether there are leaks.

Hiring a local roofing contractor is an excellent move. Such a professional understands the local regulations, meaning they will undertake the project seamlessly. Local experts are also better placed to offer more affordable and premium-quality services. This will be an opportunity to start blending into the local community too. However, check their portfolio to be sure about what they can offer.

Plumbing Service

Residential plumbing is an essential service that you should get when moving into a new home. This service focuses on multiple tasks, including an excellent drain cleaning service. The goal is to ensure that water comes in and out of your property correctly. This element cushions you against various health issues and accidents.

A contractor provides you with multiple plumbing services, from pipe installation and maintenance to fixing water heaters, boilers, furnaces, and water-related appliances. Proper installation of these elements will ensure that your house is safe and comfortable. It will protect you from stench, germs, and bacteria.

The technician will focus on leak detection and repair. This service aims at reducing the wastage of water. You can also rely on this professional to install and maintain different plumbing appliances and pipelines. They could also suggest technologies that allow you to monitor the plumbing system effortlessly, for instance, touchless fixtures, brain pipes, and smart toilets.

Suppose you bought a property with many trees on the compound, yet you do not like them. These trees might cause significant discomfort in the long run, meaning you'll need to remove them before moving in. Remember, you can remove trees for particular reasons: they are diseased, they pose a danger, they can destroy property, and you significantly dislike them.

In this case, you will need professional tree removal services. This professional offers a wide range of tree-related services, from tree care and maintenance to stump removal, pruning, and tree removal. They customize their services to suit the needs of their clients. Their professional tree trimming and removal services will ensure that your compound looks terrific.

Hiring a professional might seem a burden to you. Yet, it assures you of unmatched value for your money. This expert comes with specialized equipment and skills to ensure the safe removal of the tree. The technician will guarantee your safety and property protection regardless of how old, weak, or unstable the tree is.

Interior Designing Services

A striking living room is a haven for any homeowner, highlighting elegance, class, and prestige. Your living space needs to look terrific at all times. Investing in interior designing and decor services allows you to get all these perks effortlessly. However, it would be best to focus on an experienced, selfless, and skilled professional.

Various interior design services suffice space planning, architectural details, color palette consultation, and interior architecture. Space planning will help you maximize your space, ensuring that the room looks organized and well-utilized. It will also allow you to choose the correct furniture sizes.

Interior designers are imaginative, visualizing how to make your space look fantastic. For instance, suppose you need a granite dining table. In this case, the professional will determine your table's size and preferred color palette. This way, you do not worry about awkwardness in the room arrangement.

Apart from creating a perfect balance in the room, these professionals will ensure that you get the right interior design style. You can choose from various options, including minimalist, eclectic, traditional, transitional, and contemporary. The choice will vary with personal preferences, available space, furniture type, and budget.

Insulation Services

Excellent home insulation provides a perfect barrier to heat flow. It ensures that your home is more comfortable and noise-free, often by reducing the heat escaping or entering your space. Investing in insulation services guarantees better returns, in the long run, saving you from excessive electricity bills.

It would be best to hire a specialized professional to handle this process. Such a professional must have an impressive portfolio, including extensive experience and skills. For instance, if you need professional caulking, you must choose a significantly experienced professional. This way, you can be sure of premium-quality services and results.

An experienced professional will provide better thermal insulation services. You could rely on them to use different methods. With enhanced experience, the project will take a considerably short time. It will also help keep the labor costs significantly low.
Professional Moving Services

Professional moving services are essential when you are ready to roll. These professionals provide you with unmatched convenience, keeping you away from unwanted stress. They will handle everything during the process, from packing to transporting your items. Thanks to their extensive experience, you do not need to worry about property damage.

However, it would be best to choose a reputable professional for the job. This expert must have enough sizeable trucks to carry your belongings, preferably on no more than two trips. They must also be insured, protecting your products from loss or damage. Remember, you'll need to scout for this professional relatively early to avoid last-minute inconveniences.

Utility and Connectivity Services

Undoubtedly, you need to be connected to the world. Excellent connectivity at your new home should be a priority. In this case, reach out to your internet service provider and notify them that you need to move. Doing this in advance will save you from last-minute hassles. Connectivity includes your phone, cable, and WiFi.

You will also need to consult your utility providers, including water and electricity service providers. They will ensure that your accounts are set on time. Home heating oil companies will also be necessary. This, too, has to be done before your move. At the same time, consider setting up your security system.

Necessary Equipment When Moving

You'll need various items when moving. Understanding what you need will help make the entire process seamless. You might need to get some from equipment rentals providers. Here is a breakdown of what you need.
New locks: New locks will help improve your security. You might need a locksmith to install the new locks.
Light bulbs
Extension cords
A fire extinguisher
Storage bins
Smoke and fire detectors: Here, you could consult a local security company to help identify the right choice. You could also compare different options before settling for one.
Window coverings
Hangers
To sum it all, moving to a new home can be a tedious process. Yet, proper planning will save you from stress in the long run. The insights mentioned above will help smoothen the process. You could personalize your list, depending on what you need in the new home.